Description
Single-Skin Calf-Hide Falconry Glove for Light to Medium Duty: Good value for small to medium hawks.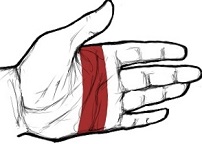 This falconry glove is designed for small hawks such as merlins, kestrels and sharpshins. It has a "D" ring attached to the bottom edge for a jess clip leash. It is soft, yet durable and some falconers use it for larger longwings as you can see in the picture.





FALCONRY GLOVE SIZES: (Measurement around palm of hand without thumb.)


Small: 7 1/2 - 8 inch circumference
Medium: 8 - 8 1/2 inch circumference
Large: 8 1/2 - 9 inch circumference
X-Large: 9 - 10 1/2 inch circumference


Care of your falconry glove: We recommend that you do not use oil on falconry gloves as it can harbor disease causing pathogens which can also attack thread and fibers in the leather. Those same pathogens are unhealthy for your hawk.

Instead, if you feel you do need to treat them with something, then they should be treated with falconry jess (jesse) grease. See related items below. Actually, for the health of your hawk, we recommend that you begin each hawking season with a new glove! Always discard your glove if you hawk has been sick and is being treated to avoid reinfection.